Services We Offer
Life Coaching
Lou Guadagnino provides life coaching, based on his wisdom gained from decades of experience as a meditator, mental health counselor, and PTSD survivor. He helps each client gain a better understanding of themselves and how to create a life that fulfills their potential and represents who they really are. He is a life mentor. Visit Lou's Life Coaching page.
Counseling/Therapy
Marilyn Guadagnino provides counseling and psychotherapy based on her lifelong career as a licensed creative arts therapist. She helps clients examine how the past has influenced the present and what to do to create a fulfilling future.  She specializes in helping people with anxiety and depression who are looking for a different style of therapy. She is a life mentor. Visit Marilyn's Counseling and Therapy page.
Couple's Coaching and Counseling
Both Marilyn and Lou offer this service. Designed for couples who want to problem solve, gain insights and learn to work as a team to move forward with common goals, they teach effective stress reduction techniques to assist couples with calming their own inner state so they are better able to relate to their partner. Their methods are better suited for couples looking to enhance their relationship as opposed to those with significant marital discord. Visit Couple's help page.
Group Therapy
Marilyn Guadagnino facilitates the Young Professional Women's Self-Care Support Group, a monthly opportunity to prioritize self-care, share ideas as well as challenges with other like-minded women, and benefit from group inspiration. Each group includes specific practices and techniques designed to help lower stress, promote insight-oriented discussion, and cultivate confidence and motivation for healthy change. Visit Group Therapy page.
More Services We Offer
Meditation Instruction
LSF Meditation is perfect for anyone who wants to reduce stress. This method of meditation is so simple you can practice it anywhere, anytime from the privacy of your own living room to a busy airport. Meditation has been practiced for thousands of years and scientific research has shown that a daily meditation practice can increase brain health. We offer individual instruction, both in-person and virtually, from Lou Guadagnino the creator or LSF Meditation, personalized to your individual needs. We also offer a 15-week group meditation at our LSF office in Rochester, NY with Marilyn Guadagnino. Lastly, you can purchase the Living Stress Free Bible which includes full instruction in LSF Meditation. Visit our Meditation Instruction page for more information.
StressFree Corporate Training 
Perfect for your company's health and wellness initiatives, staff development or leadership seminars. Lou Guadagnino will come to your business and teach meditation and other mind enhancing techniques to help your team increase efficiency, enhance healthy communication, reduce stress, and improve staff morale. Visit our Corporate Training page.
Serenity Immersion
Immersion experiences offer the ultimate time-out from our stressful lives.
Immersion experiences allow for total reboot, recharge, and rejuvenation. Marilyn and Lou Guadagnino offer Serenity Immersion experiences through half day, full day, or weekend retreats. Included in the immersion experience is guided meditation, Spanda sound baths, walking meditation, spiritual contemplations, and insight-cultivating group discussions. This experience will not only reduce your stress, it will set you on a course of stress prevention through reviving your desire to live a more peaceful, centered life. Visit our Serenity Immersion page.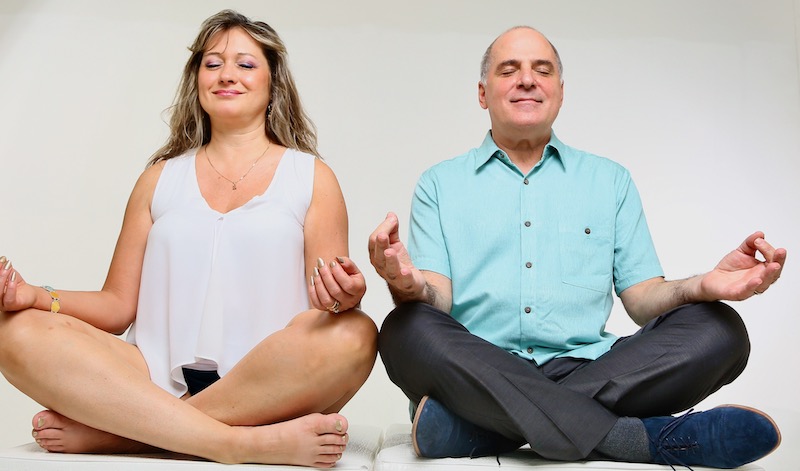 Marilyn and Lou Guadagnino have decades of experience studying and practicing meditation as well as mindfulness practices, self-care techniques, and lifestyle management.